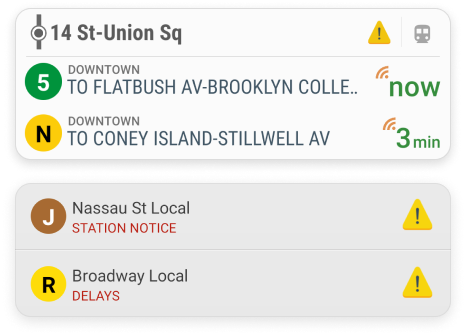 MTA Bus Time, Subway Realtime, Metro North and LIRR Schedules
Looking for MTA bus time, LIRR schedules, or Metro North schedule? Use MyTransit app's "Schedules" tab for real-time arrivals & schedules for NYC Subway times, MNR schedule, and LIRR train times across the entire Metropolitan Transportation Authority (MTA) network in New York.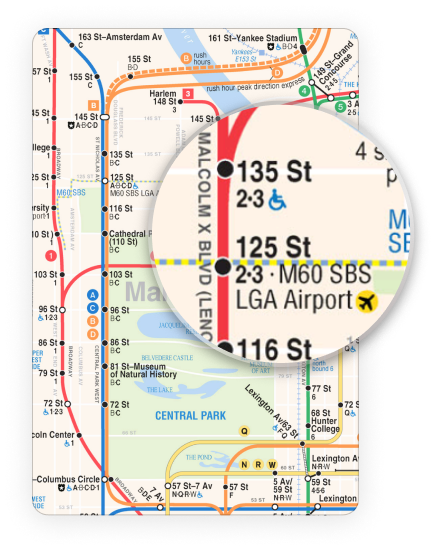 NYC Subway Maps and more!
Explore our extensive range of NYC transit maps, including the NYC subway map and NYC metro map, officially licensed from MTA. Our collection features New York metro maps covering day and night-time service, accessible stations, and winter weather conditions. Discover detailed NYC MTA subway map and New York subway routes for all 5 boroughs: Manhattan, Brooklyn, Queens, Bronx, and Staten Island. Maps also include LIRR map for Long Island Railroad, Metro-North map, and connections to PATH and NJ Transit lines, providing a comprehensive view of New York's underground and metro train networks.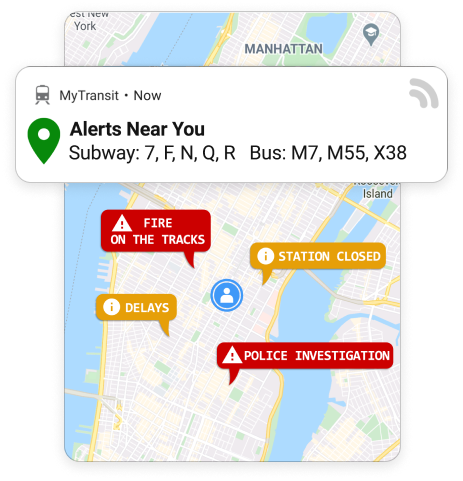 Transit & Safety Alerts
Stay safe and informed about transit changes and disruptions happening around you. Easily enable alerts, set alert schedule, subscribe to any NYC subway line, MTA Bus route, LIRR or Metro-North rail lines.
NYC Metro Routes and Directions
Easy to follow, step-by-step directions and timely information for navigating New York City MTA public transit with ease and confidence.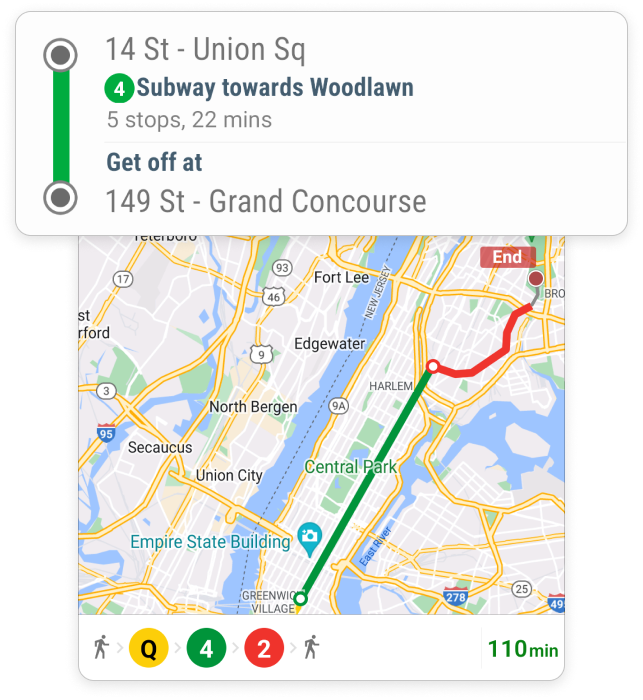 NYC Subway Maps
The NYC subway map, a symbol of the Metropolitan Transportation Authority (MTA), represents the vibrant pulse of city life, offering a comprehensive network that unites diverse communities throughout New York City. The NYC metro map has been the city's lifeline since the early 1900s, illustrating New York's continual development and innovation through its ever-evolving transit designs. Covering all five boroughs—Manhattan, The Bronx, Brooklyn, Queens, and Staten Island—it is a crucial element of the MTA's all-encompassing transit system. The New York metro map not only symbolizes the city's cultural vibrancy but also ensures efficient transportation for millions, be it residents or visitors. With a focus on progress and enhanced public transportation, the MTA consistently optimizes the design and accessibility of the New York underground map, nyc mta subway map, and the nyc metro train map, reflecting New York's dedication to advancement and superior public transit solutions.
NYC MTA Bus Maps
The NYC bus map, managed by the Metropolitan Transportation Authority (MTA), details the city's extensive bus network across the five boroughs - Manhattan, The Bronx, Brooklyn, Queens, and Staten Island. This crucial transportation tool caters to millions of daily commuters, connecting diverse neighborhoods and supplementing the NYC subway system. The MTA's continuously refined bus map embodies New York City's dedication to effective and accessible public transit, reaching every corner of the city.
LIRR Map and Metro-North Map
The Long Island Railroad (LIRR) and Metro-North, essential components of the Metropolitan Transportation Authority's (MTA) transit network, connect New York City to the wider metropolitan area. The LIRR extends from bustling Manhattan to tranquil Long Island, while the Metro-North connects Grand Central Terminal to northern suburbs. With links to key hubs like Atlantic Terminal and Port Authority Terminal, these maps underscore New York City's dedication to robust and accessible transportation for millions daily.